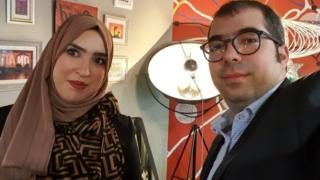 A woman who was praised for intervening to stop anti-Semitic abuse said she hopes her story can inspire others.
Asma Shuweikh, was reunited with the father of the family that was racially abused while travelling on the London Underground.
"We spoke about our common ground," she told the BBC "we should learn to get along in this multi-faith world."
A man has been arrested and bailed on suspicion of committing a racially aggravated public order offence.
In a video shared on social media a man was filmed reading Bible passages which are interpreted as being anti-Semitic to two boys in skullcaps travelling on the Northern Line.
Ms Shuweikh, who was widely praised for confronting the man in the video, said she "wouldn't hesitate to do it again" and wished more people had intervened.
"The kids looked terrified. I'm a mother and I couldn't just stand by," she said.
"As a practising Muslim I can't see injustice and not intervene. It goes against what we are taught."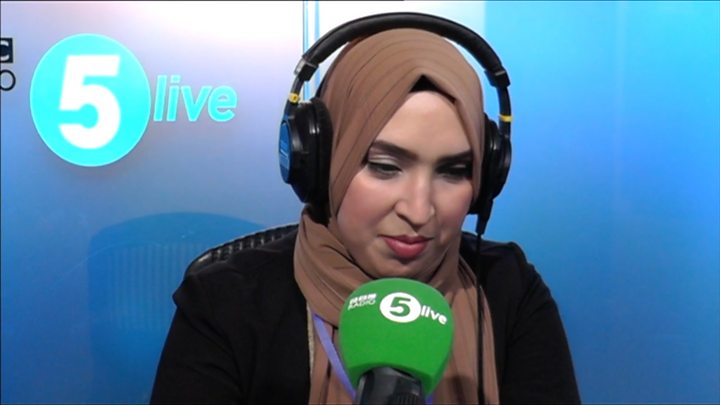 Meeting with the father, who has chosen not to be named, was "really, really nice," she said.
"We spent an hour talking. At the end of the day we all need to get along as we all live in this country.
"That's what's nice about Britain. it's a multi-cultural society."
"I hope that people see this story and realise when you go through these things we can come together and something good can come from it."
Previously the father said that without her intervention, he thought the abuse might have escalated to physical violence.
He said: "We are certain that without her intervention and distraction, he would have continued his abuse.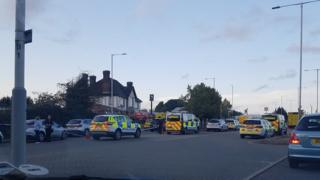 A man stabbed to death at a London Underground station was an Arsenal fan on his way to a match.
Tashan Daniel, 20, was fatally wounded in an "unprovoked attack" on the platform at Hillingdon station on Tuesday shortly before 16:00 BST.
He had been heading to the Emirates Stadium to see the Gunners face Nottingham Forest in the third round of the Carabao Cup.
It is the third murder investigation on the Tube network this year.
A spokesman for the Premier League club said: "Everyone at Arsenal Football Club is shocked and deeply saddened to learn of the tragic passing of Arsenal fan Tashan Daniel.
"Our thoughts are with Tashan's family and friends at this sad time."
Mr Daniel, who had recently celebrated his birthday, was on the platform waiting for a Piccadilly Line train into central London when he was attacked by two men, British Transport Police (BTP) said.
'Senseless attack'
Attempts were made to save Mr Daniel who was pronounced dead inside a Tube carriage.
Det Ch Insp Sam Blackburn said no arrests had been made, but both suspects left the station in the direction of Auriol Drive and a knife was recovered nearby.
"Tashan did not deserve to lose his life during this senseless attack," he said.
"His family are completely broken by this news and we are doing everything we can to offer them support."
Extra officers are going to be carrying out patrols in the Hillingdon area, Det Ch Insp Blackburn added.
Danielle Foster, who was driving past Hillingdon station at the time of the stabbing, said upon "hearing so many sirens, I knew something terrible had happened".
"Lots of people were being turned away from the station as it had been closed," she said, adding: "Then the police helicopter began circling the scene."
The station was closed by Transport for London (TfL) while police searched the area.
It remained closed for the rest of Tuesday evening and reopened at 05:45 on Wednesday.
So far in 2019 more than 100 murder investigations have been launched across London by the Metropolitan Police and BTP.
The other two murder investigations carried out by BTP happened after killings at Queensbury Tube station in March and Elephant and Castle Tube station at the start of this month.