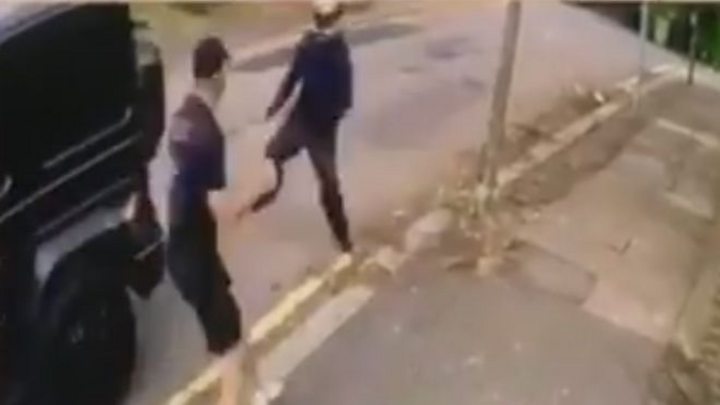 A second man has admitted trying to rob Arsenal footballers Mesut Özil and Sead Kolasinac in a moped ambush.
Jordan Northover, 26, pleaded guilty at Harrow Crown Court to attempting to steal watches from the pair in Hampstead, north-west London.
His co-accused Ashley Smith, 30, of Archway in North London, admitted his role in the crime in October.
CCTV footage showed Bosnian defender Kolasinac chasing off the two masked attackers on 25 July.
In the video that circulated on social media, 26-year-old Kolasinac is seen fighting off two men who are wielding knives.
He can be seen jumping out of a vehicle to confront the masked men who had pulled alongside the car on mopeds.
World Cup winner Özil can also be seen in his black Mercedes G class jeep before he reportedly took refuge in a Turkish restaurant.
New CCTV footage released by police shows full-back Kolasinac being prodded with a pointed weapon by one of the men.
The Met Police said a key breakthrough came when a moped without number plates was spotted by a member of the public in a cul-de-sac in Borehamwood, south Hertfordshire.
Inquiries revealed it was the same bike used in the raid, the force said.
CCTV from a local pub showed Northover and Smith visiting a short time after the offence, with their clothes and a motorcycle helmet found on grassland near the bar.
Ch Insp Jim Corbett said the men "attempted this brazen robbery after travelling around streets nearby, looking for people to rob".
"Northover didn't hesitate to draw a weapon when making demands, but he didn't bargain on being challenged and the pair went away empty-handed," he said.
Kolasinac and Germany midfielder Özil were left out of the Arsenal side ahead of the opening weekend of the Premier League campaign after the incident.
Özil told the Athletic sports site he was scared for his wife Amine as the attackers pursued his car.
"Sead's reaction was really, really brave because he attacked one of the attackers," he said.
"I tried to move the car, block them, escape, but each time they would be there. My wife was extremely scared."
Smith will be sentenced at Harrow Crown Court on Friday, and Northover will be sentenced at a later date.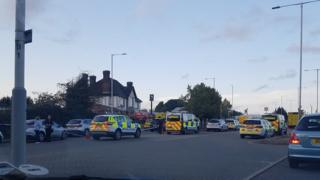 A man stabbed to death at a London Underground station was an Arsenal fan on his way to a match.
Tashan Daniel, 20, was fatally wounded in an "unprovoked attack" on the platform at Hillingdon station on Tuesday shortly before 16:00 BST.
He had been heading to the Emirates Stadium to see the Gunners face Nottingham Forest in the third round of the Carabao Cup.
It is the third murder investigation on the Tube network this year.
A spokesman for the Premier League club said: "Everyone at Arsenal Football Club is shocked and deeply saddened to learn of the tragic passing of Arsenal fan Tashan Daniel.
"Our thoughts are with Tashan's family and friends at this sad time."
Mr Daniel, who had recently celebrated his birthday, was on the platform waiting for a Piccadilly Line train into central London when he was attacked by two men, British Transport Police (BTP) said.
'Senseless attack'
Attempts were made to save Mr Daniel who was pronounced dead inside a Tube carriage.
Det Ch Insp Sam Blackburn said no arrests had been made, but both suspects left the station in the direction of Auriol Drive and a knife was recovered nearby.
"Tashan did not deserve to lose his life during this senseless attack," he said.
"His family are completely broken by this news and we are doing everything we can to offer them support."
Extra officers are going to be carrying out patrols in the Hillingdon area, Det Ch Insp Blackburn added.
Danielle Foster, who was driving past Hillingdon station at the time of the stabbing, said upon "hearing so many sirens, I knew something terrible had happened".
"Lots of people were being turned away from the station as it had been closed," she said, adding: "Then the police helicopter began circling the scene."
The station was closed by Transport for London (TfL) while police searched the area.
It remained closed for the rest of Tuesday evening and reopened at 05:45 on Wednesday.
So far in 2019 more than 100 murder investigations have been launched across London by the Metropolitan Police and BTP.
The other two murder investigations carried out by BTP happened after killings at Queensbury Tube station in March and Elephant and Castle Tube station at the start of this month.